History of the Lodge of Connaught & Truth No. 521
---
Chapter I
FORMATION and EARLY YEARS.
Preliminary Discussion — Formation Meetings -- Constitution — Founders — Collaboration with The Lodges of Harmony and Huddersfield Union Lodge of Instruction — Meeting Places : White Hart Inn and George Hotel — Some interesting Incidents ...

CHAPTER II.
THE YEAR 1852 — A REMARKABLE YEAR.
Rose & Crown Inn — Presentation of Chairs — Holmfirth Flood — Amazing amount of Business per month --- Lodge Banner presented — Initiation of Minor — New Room at Rose & Crown -- :33 Candidates — Address to W.M.
CHAPTER III.
THE YEARS 1853 and 1854.
Soiree in Masonic Clothing — Lord Goderich's Proposal and Ceremonies -- Infidel Lecture — Proposals for new Building and Removal ... ...
CHAPTER IV.
FREEMASONS' HALL, FITZWILLIAM STREET,
1855 onwards.
Plans — Foundation Stone — First Meeting — Supper Room as Lodge Room —Resident
Tylers — Lodge of Harmony accommodated — Gift of Snuff Box —Leases — Trust
Deeds — Trustees — Tenant Lodges and Side Degrees —Annexe and
Communicating Door — Alterations 40

CHAPTER V.
THE YEARS 1855 to 1894.
Fitzwilliam Street Craft Meetings in R.A. Clothing — Installation of Earl
of Ripon as Prov. G. M. — Re-numbering of Lodge — Inauguration of Children's Party
P.G.L. Meeting under Banner of No. 521 — Visit of Duke of Albany — 40th Anniversary —
Visit of R. Wor. Bro. T. W. Tew — Centenary of Lodge of Harmony -- Inauguration of
Presentation of Bibles ... 49

CHAPTER VI.
THE LODGE'S JUBILEE 1895.
Full Account of Celebrations, 29th April, 1896 — Jubilee Circular and Programme —
Officers present — Lodges represented — History by W. Bro. Reuben Williamson —
Congratulations and Greetings -- Bro. John Pyrah, Secretary 60

CHAPTER VII.
THE SECOND FIFTY YEARS
1895 — 1945.
A Period of Celebrations, Jubilees and Anniversaries — Diamond Jubilee of Queen Victoria
— Petition to elect Honorary Member — Coronation of King Edward VII — Lodge Banner
painted — Death of King Edward VII — Constitution of Instruction Classes United
Lodges — Lodge Journal — Lodge
Removals W. Bro. Samuel Guise, Provincial Grand Secretary (Warwickshire) — Charity Golf
Cup won by Member of No. 521 -- Plans for Centenary Festival ... 64

CHAPTER VIII.
LODGE RECORDS, ROUTINE and RITUAL
INSTRUCTION CLASSES.
Warrants and Workings — Lodge Banner and Books -- Lodge Records and Routine —
Minute Books — Declaration Books -- Lodge Journal — Circulars -- Guard Books —
Missing Records Instruction Classes — Union Lodge of Instruction — Monday Night
Classes — Thursday Night Classes — Past Master's Jewel -- Record of Master's Year 77

CHAPTER IX.
THE BY-LAWS OF THE LODGE.
Chronological Record --- Formation — Segregation of Benevolent Fund —
"Tin-money" -- Revisions and Alterations — Manuscript Book 1892 by Bro. J. Lewis Sykes
— Declaration and Acceptance by Members - - - Scale of Fees and Subscriptions 95

CHAPTER X.
CHRONOLOGICAL LIST OF GIFTS TO THE LODGE AND
DONATIONS TO CHARITIES.
Gifts to the Lodge as recorded : and Donations to Masonic Charities ... 101

CHAPTER XI.
MASONIC JUBILEES, GOLDEN WEDDINGS and OTHER ANNIVERSARIES
OF THE MEMBERS : PORTRAITS AND PHOTOGRAPHS.
Prominent Personalities, Pen Pictures and Portraits 107

CHAPTER XII.
WAR AND PEACE.
Crimean War -- South African War — Great War 1914-18 -- World War
1939-45 __ Preservation of Records — Decomposition of Original Warrant —
Warrant of Confirmation ... ... 118

CHAPTER XIII.
DAUGHTER LODGE, SIDE DEGREES,
SUPPORT TO OTHER LODGES.
Side Degrees — Knights Templar — Royal Arch — Mark Masons — Daughter
Lodge Connaught No. 3800 — Other New Lodges in Huddersfield and District
— Installed Master Association ... 123

CONCLUSION ... 134

LIST OF ILLUSTRATIONS, COPY DOCUMENTS, ROLLS and LISTS.
I L L U S T R A T I O N S , C O P Y D O C U M E N T S ,
R O L L S A N D L I S T S .

ILLUSTRATIONS.
I Old Block of Heading used for Circulars 1855-1861 Frontispiece
Page
II Photograph of Lodge Warrant (1845) 15
III First Page of Minutes 5 December, 1845 ... 21
IV Freemasons' Hall, Fitzwilliam Street 39
V Notice of Special Provincial Grand Lodge 15 October, 1883 53
VI Jubilee Circular (1896) 58
VII Jubilee Programme (1896) ... 59
VIII Photograph of Centenary Warrant (1945) ... 75
IX Specimen Page of Lodge Journal ... 86
X Fac-simile of Form of Lodge Banner Facing 88
XI Photograph of Past Master's Jewel ... 90
XII Board of Worshipful Masters 92
XIII Specimen Page of Manuscript By-Laws (1892) 97
XIV Declaration and Acceptance Page of By-Laws 99
COPY DOCUMENTS, ROLLS & LISTS.
(1) Summary Sheet of Constitution, Lodge Nos. and Meeting Places 11
(2) Printed copy of Warrant of Constitution (1845) 16
(3) Printed copy of Centenary Warrant (1945) ... 76
(4) List of Number of Subscribing Members at each year end 78
(5) Roll of Worshipful Masters of the Lodge ... 93
(6) Roll of Members who have attained Provincial Rank 94
(7) Summary of Donations to Charities ... 106
(8) Printed Copy of Warrant of Confirmation (1945) ... 121
(9) Roll of Mayors of Huddersfield, with Masonic Rank, Lodge, etc. 132-133
(10) Roll of Members 1845-1945 ... 135-139

---
History of 100 Years of the Lodge of Truth No. 521
Huddersfield, Yorkshire (West Riding)
1845 - 1945
W. Bro. H. L. SIMPSON, P.P.G.D., of The Lodge of Harmony, No. 275
and Secretary of The Huddersfield and District Installed Masters' Association
"Let Yesterday be a Lesson, To-day an Action, and To-morrow a Hope"
---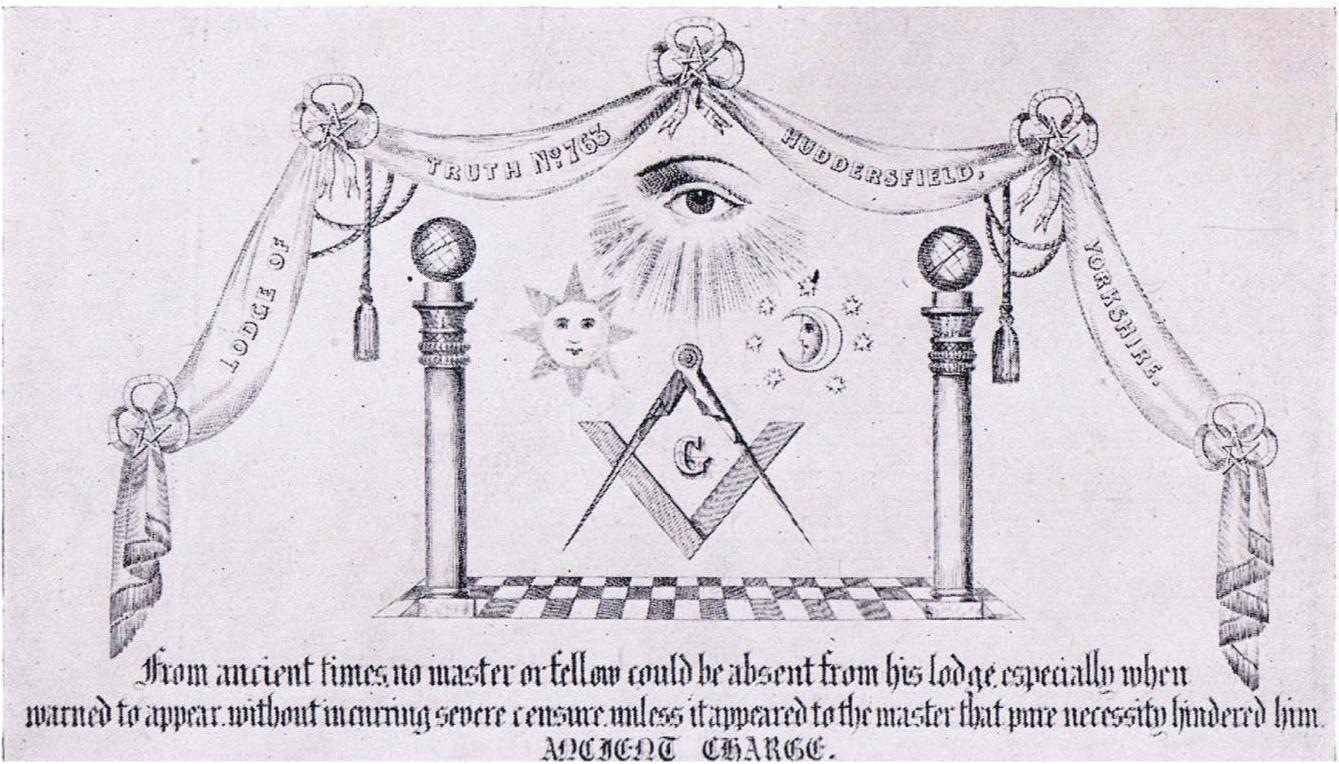 Old Block of Heading used for Lodge Summons, 1855 -1861

---
To
The Officers, Past Masters and Brethren
of The Lodge of Truth, No. 521,
in particular
and
The Masonic Historians and Brethren interested
in the Masonic History of Huddersfield
in general
---
Foreword
When the Centenary Committee of The Lodge of Truth, No. 521, asked me if I would undertake the preparation of the History of the first 100 years of their Lodge, I readily accepted, because, although it meant devoting much time to it, I knew I should find it interesting, and that the time given would prove to be profitably and enjoyably spent as far as I was concerned. I was not disappointed, and I hope that you, my readers, will not be disappointed with the result of my efforts.
We had an interesting plan of campaign for the preparatory work. In most Lodges, perhaps in every Lodge, there is at least one Brother, at the time he is wanted, who knows where everything is, and who loves to do anything in any way connected with his Lodge and its records. Such a Brother is W. Bro. Norman Sykes, of The Lodge of Truth, who, by
common consent, was "seconded for service" to assist me in my work, and nothing I could ask has been too much trouble. I am more than grateful to him for his splendid assistance: not only did he bring me what I wanted, but he even "paced me" in the reading of the Minutes, and placed little index papers in the pages containing salient information. The Lodge has every reason to be indebted to him for his devotion and his constructive work in the interests of his Lodge. He is a worthy successor to the late W. Bro. J. T. Spratt, to whom tribute must be paid for setting up The Lodge Journal and presenting it to the Lodge in 1917, after having written it up, year by year—a year on a page— from the formation in 1845, thus providing an invaluable précis of The Lodge's History in very convenient form. With this as my foundation, and W. Bro. Norman Sykes ready at hand with the supplementary information, my task was made very much easier, and the necessity for searching or enquiring elsewhere for information considerably reduced. Nevertheless, I did seek assistance from other sources and wish to acknowledge my indebtedness. I made frequent and fruitful use of other printed Histories, including
the Lodges of Peace, Huddersfield, Thornhill, Colne Valley, Albert Edward, and the manuscript histories in The Lodge of Harmony Minute Books.
I wish particularly to thank the following for their help, in every case, so ungrudgingly given :-
The Lodge of Harmony, No. 275.
The Huddersfield Lodge, No. 290.
Connaught Lodge, No. 3800.

Bro. Sidney Kaye of The Lodge of Harmony, the Mayor of Huddersfield in 1944-45, for so kindly providing me with information as to the Mayors of Huddersfield since the Corporation obtained its Charter.
The Brethren of the respective Lodges to whom I sent enquiries to enable me to include in my Book a Roll of the Mayors of Huddersfield, with their Masonic Rank, Lodges, etc.
W. Bro. C. E. Frobisher, P.G.D., the Provincial Grand Secretary, for his prompt replies with factual information from the Provincial records.
W. Bro. F. R. Worts, P.P.G.D. (Goderich Lodge, No. 1211, and Lodge of Peace, No. 149), the Provincial Grand Librarian, who very kindly read my manuscript and gave me helpful hints. and, last but not least, The Worshipful Master, Officers and Brethren of The Lodge of Truth for their courtesy and kindness to me on my many visits to the Lodge Premises and Meetings when seeking information and inspiration.
H. L. SIMPSON,
The Lodge of Harmony,
No. 275.
HUDDERSFIELD,
December, 1945.

---
Introduction
In preparing and presenting this History of 100 years of The Lodge of Truth, No. 521, the hope is expressed that it will be of interest not only to the Brethren of The Lodge of Truth itself, but also to the Brethren of Huddersfield and District, as a contribution towards the records of Freemasonry in the Town, as The Lodge of Truth is but the fifth out of eighteen Lodges in the Town and District to attain this distinction, the others preceding it being :-
The Lodge of Peace, No. 149, dating back to 1777.
The Lodge of Harmony, No. 275, dating back to 1789.
Huddersfield Lodge, No. 290, dating back to 1793.
Lodge Candour, No. 337 dating back to 1812.
The Lodges No. 149 and No. 337 are outside the Town, at Meltham and Saddleworth respectively. The Lodge No. 275 originated in Halifax, but has had over 100 years in Huddersfield (from 1837), so The Lodge of Truth, No. 521, is really only the second Lodge formed in Huddersfield itself to attain its Centenary, and it was formed in 1845 when The Lodge of Harmony and The Huddersfield Lodge represented the masonic life of the Town, shortly after each had celebrated its Jubilee.
It is interesting to observe that from each of these three Lodges, so closely united in those days of 100 years ago, there emanated a Provincial Ruler, viz.:
| | | | |
| --- | --- | --- | --- |
| From The Lodge of Truth, No. 521 | | | The Rt. Hon. The Earl de Grey and Ripon (afterwards The Most Hon. The Marquis of Ripon, K.G.) |
| | | | Provincial Grand Master 1861-1874 |
| | | | Grand Master 1870-1874 |
| From The Lodge of Harmony, No. 275 | | | W. Bro. Bentley Shaw |
| | | | Deputy Provincial Grand Master 1870-1875 |
| From The Huddersfield Lodge, No. 290 | | | Rt. Wor. Bro. Sir William P. Raynor, Kt., J.P. |
| | | | Deputy Provincial Grand Master 1915-1919 |
| | | | Provincial Grand Master 1919-1926 |
and The Lodge of Truth has also supplied a Provincial Grand Secretary, namely, W. Bro. Samuel Guise, who became Provincial Grand Secretary of the Province of Warwickshire
in 1932.
Even as The Lodge of Truth had The Lodge of Harmony and Huddersfield Lodge as "its parents", so did The Albert Edward Lodge spring in 1878 from the "combined operations" of The Lodges of Harmony, Huddersfield and Truth. The Connaught Lodge, formed in 1917, was a Daughter Lodge of The Lodge of Truth, and Concord Lodge in 1920 was a
Daughter Lodge of The Albert Edward Lodge.
It will thus be seen that The Lodge of Truth has had a very close relationship and association with the other Lodges in the Town throughout its first 100 years: these connections and associations are more fully dealt with in the narrative which follows, and the attention of the reader is directed to the lay-out and headings of the thirteen Chapters in the Contents.
H.L.S.
---
Summary
Constitution, Lodge Numbers, Meeting Places, etc
| | | | | | | | |
| --- | --- | --- | --- | --- | --- | --- | --- |
| 1845 December 3 | | | | | | | Lodge constituted as "The Lodge of Truth No. 763" |
| | | | | | | | The preliminary Meetings leading up to the formation being at The Rose & Crown Inn, Kirkgate. |
| | | | | | | | |
| 1845 December 3 | | | | | | | Meeting Place : |
| to | | | | | | | White Hart Inn |
| 1850 March 15 | | | | | | | |
| | | | | | | | |
| 1850 April 5 | | | | | | | Meeting at South Parade by special arrangement to celebrate removal to The George Hotel. |
| | | | | | | | |
| 1850 May 3 | | | | | | | Meeting Place : |
| to | | | | | | | George Hotel |
| 1851 March 21 | | | | | | | |
| | | | | | | | A private Meeting to settle the next removal was held at The Rose & Crown Hotel on 13 March, 1851. |
| | | | | | | | |
| 1851 April 4 | | | | | | | Meeting Place : |
| to | | | | | | | Rose & Crown Hotel |
| 1855 September 7 | | | | | | | |
| | | | | | | | |
| 1855 October 5 (onwards to date) | | | | | | | Freemasons' Hall |
| | | | | | | | Fitzwilliam Street |
| | | | | | | | |
| 1863 | | | | | | | In the change of numbers by Grand Lodge, The Lodge of Truth was changed from No. 763 to No. 521. |
Other Huddersfield and District Lodges 1845 - 1863
The Lodge of Peace - was No. 174 until 1863 then No. 149
The Lodge of Harmony - was No. 342 until 1863 then No. 275
Huddersfield Lodge - was No. 365 until 1863 and then No. 290
Lodge Candour - was No. 422 until 1863 and then No. 337
Holme Valley Lodge - Was No. 937 until 1863 and then No. 652
---
---
COPY OF WARRANT OF CONSTITUTION.

ZETLAND.— G.M.
WORSHIPFUL AND LOVING BRETHREN, WE. THOMAS DUNDAS, EARL OF ZETLAND, BARON DUNDAS, OF ASKE, IN THE COUNTY OF YORK, &C., &C., &C., GRAND MASTER OF THE MOST ANCIENT AND HONOURABLE FRATERNITY OF FREE AND ACCEPTED MASONS OF ENGLAND, No. 763. SEND GREETING
KNOW YE, THAT WE, by the Authority and under the sanction of the United Grand Lodge of England, vested in us for that purpose, and at the humble petition of our right trusty and well-beloved brethren WILLIAM KILNER, WILLIAM SHAW, THOMAS ROBERT TATHAM, TITUS THEWLIS, JOSEPH BROOK, SAMUEL SHAW, THOMAS KENWORTHY ROWBOTHAM, AND OTHERS, DO HEREBY CONSTITUTE the said Brethren into a Lodge of Free and Accepted Masons, under the title of denomination of The Lodge of Truth the said Lodge to meet at the White Hart Inn, Huddersfield, Yorkshire, on the first Friday in every month, empowering them in the said Lodge when duly congregated, to make, pass, and raise Freemasons, according to the ancient custom of the Craft in all ages and nations throughout the known world. AND FURTHER, at their said petition, and of the great trust and confidence reposed in every of the above-named Brethren, WE DO APPOINT the said WILLIAM KILNER, to be the first Master; WILLIAM SHAW, to be the first Senior Warden, and the said THOMAS ROBERT TATHAM to be the first Junior Warden, for opening and holding the said Lodge, and until such time as another Master shall be regularly elected and installed, strictly charging that every member who shall be elected to preside over the said Lodge, and who must previously have duly served as Warden in a warranted lodge, shall be installed in Ancient Form, and according to the Laws of the Grand Lodge, that he may thereby he fully invested with the dignities and powers of his office. AND WE DO REQUIRE you the said William K ilner, to take special care that all and every the said Brethren, are, or have been, regularly made Masons, and that you and they and all other the members of the said Lodge, do observe, perform, and keep the Laws, Rules, and Orders contained in the Book of Constitutions, and all others which may from time to time be made by our Grand Lodge, or transmitted by us or our successors, Grand Masters, or by our Deputy Grand Master for the time being. AND WE DO enjoin you to make such Bye-Laws for the government of your Lodge as shall to the majority of the members appear proper and necessary, the same not being contrary to or inconsistent with the general laws and regulations, and also on account of the proceedings in your Lodge, to be entered in a book to be kept for that purpose. AND YOU are in no wise to omit to send to us or our successors, Grand Masters, or TO THE RIGHT HONOURABLE RICHARD WILLIAM PENN CURZON HOWE, EARL HOWE, VISCOUNT AND BARON CURZON, OF PENN AND BARON HOWE, G.C.H., Lord Chamberlain to Her Majesty Queen Adelaide, &c., &c., &C., OUT DEPUTY GRAND MASTER, or to the Deputy Grand Master for the time being, at least once in every year, a List of the Members of your Lodge, and the names and descriptions of all Masons initiated therein, and brethren who shall have joined the same, with the fees and moneys payable thereon. IT BEING our will and intention that this our WARRANT OF CONSTITUTION shall continue in force so long only as you shall conform to the laws and regulations of our Grand Lodge. AND YOU, the said William Kilner, are further required as soon as conveniently may be, to send us an account, in writing, of what shall he done by virtue of these presents. GIVEN under our hands and the Seal of the Grand Lodge, at London, this 3rd December, A.L. 5845, A.D. 1845.
BY COMMAND of the M. W. Grand Master,
HOWE, D.G.M.
WILLIAM M.H. WHITE , G.S .
---